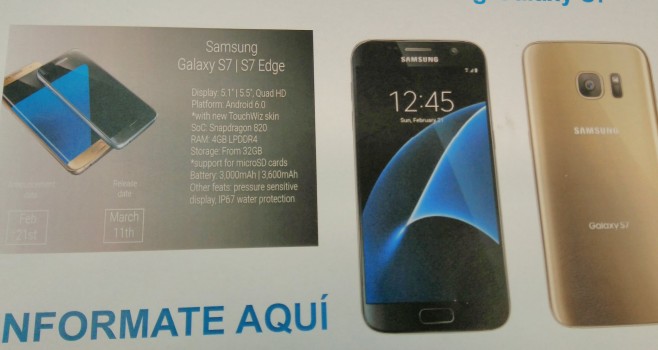 Well, here it is, as good as official. A Spanish brochure for the Samsung Galaxy S7 and S7 edge spill the beans on the specs and the release date.
The S7 will have a 5.1″ screen, the Samsung Galaxy S7 edge a 5.5″, both QHD SuperAMOLEDs. The chipset is listed as Snapdragon 820, which will likely serve both Europe and North America. It's paired with 4GB of RAM.
Interestingly, the display is "pressure sensitive." This smells of a Samsung implementation of Force Touch.
The brochure confirms a microSD slot and the built-in storage starts at 32GB (what bigger options we'll get is not clear). Batteries will be 3,000mAh on the smaller phone and 3,600mAh on the bigger one.
The other expected feature, the water resistance, is also present on the list with an IP67 rating. That's dust-tight, resistant up to 1m of water for 30 minutes.
The Samsung Galaxy S7 and S7 edge will launch on March 11 (that's in Spain, at least). Samsung will sell them in partnership with La Caixa (a Catalan bank).
You can spend €700 for the S7 or €800 for the Galaxy S7 edge. Alternatively, the bank will help you get the S7 flagships on a monthly payment plan of €42.45 and €47.45 respectively. The smartphones will come packaged with a VR headset, though it's not quite clear if that's the current Gear VR model or a new edition, which we are yet to see announced.
["Source-gsmarena"]