Last week we saw the "Samsung Lucky LTE" pass through Geekbench, now "Samsung Project Lucky" has entered the arena. Surprisingly, these are not the same device – Project Lucky has 3GB of RAM and a higher CPU clock speed.
It's the same Exynos 8890 chipset as in the Lucky LTE device, except that one has 4GB of RAM. Note that these are probably very early test versions of both the chipset and the software so the CPU clockspeeds might equalize later on.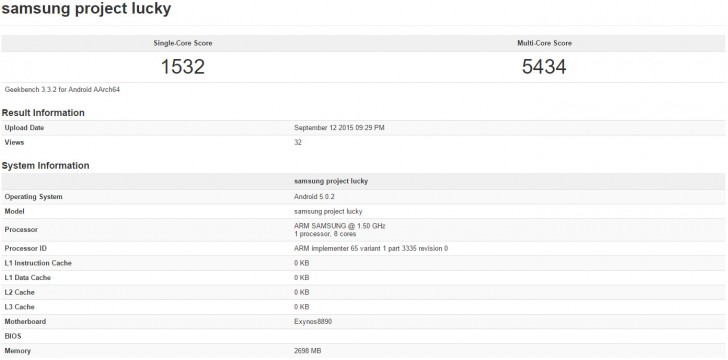 The RAM amount is most likely fixed though, which feeds into the rumors of a two-tier Galaxy S7 launch – one with a 5.7″ screen (the premium option) and one with a 5.2″ screen. There was also some evidence of a Snapdragon 820 version of the Galaxy S7. Perhaps Samsung is still evaluating its options or it could be going back to a two chipset strategy as before.
["source-gsmarena"]