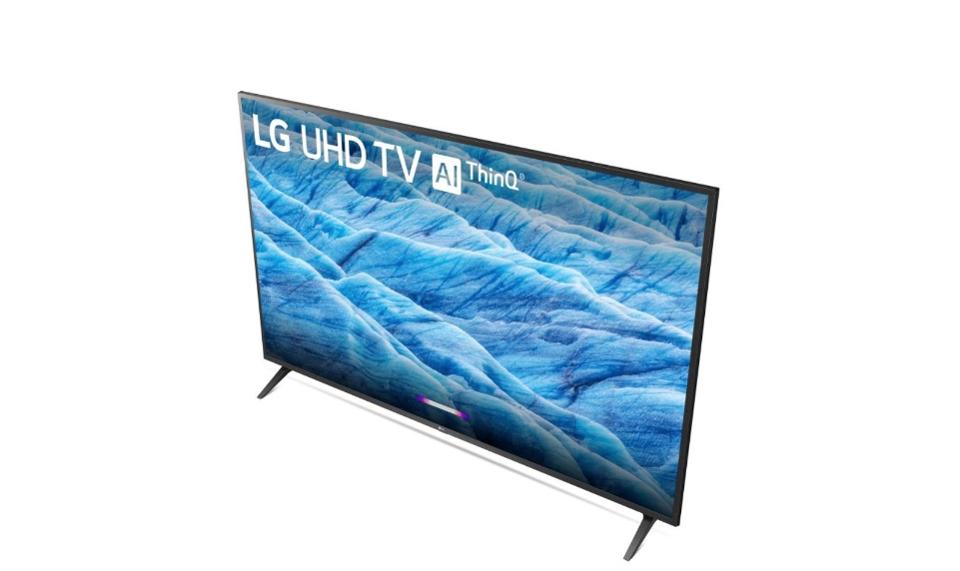 LG proves that a good 4K TV can be had for under $300.
As of the weekend of August 25, the 43-inch LG UM7300, a new 2019 LG TV released in the spring, is $299.99 at Best Buy, $296.99 at B&H Photo and $296.98 at Amazon.
[Note this brief review focuses on display quality.]
After using the 43-inch UM7300 for a week, I am more than pleased with the quality of LG's IPS LCD 4K display
IPS LCD panels are used widely for computers because, among other reasons, they deliver wide viewing angles. It's more of a trade off for TVs where IPS displays compete with VA, or vertical alignment, displays. The latter deliver better contrast and deeper uniform blacks compared to IPS.
Because contrast is important to picture quality, many Samsung 4K LCD TVs use VA or "SVA" tech. That includes the Samsung RU7100 ($329.99 at Best Buy) which competes with the LG UM7300.
I prefer IPS because any display, TV or computer, is inevitably viewed from an angle — and sometimes permanently from an angle. And image degradation can be pretty dramatic even at moderate angles on many VA displays, particularly for 4K TVs below $500.
I also prefer the faster response times of IPS displays (very important if you're a gamer).
Why I recommend the UM7300
Bang for the buck. I was surprised at how inexpensive the UM7300 is considering what you're getting: good viewing angles, good brightness, fast response times, good upscaling, decent aesthetics (i.e., it's a fetching design for under $300) and decent sound. OK, you only get limited HDR support, i.e., it doesn't support dynamic HDR formats, like HDR10+ or Dolby Vision. And doesn't deliver the kind of bass you would get from a big subwoofer. But, like a lot of consumers, I'm not an overly sophisticated TV watcher. I use a TV to watch cable channels and movies (not in 4K).
Smart features: for the price, the LG UM7300 has good smart features, using the same WebOS as on higher-end models. It also comes with a good remote, which supports LG's virtual pointer — like a computer pointing device except you move the pointer with the motion of your arm.
PC monitor: it can serve as a decent PC monitor. Many of the user reviews I've read on retailer sites praise it as a PC gaming monitor.
Size: I prefer "smaller" 43-inch-class 4K monitors. A 43-inch 4K TV is plenty big enough for most living rooms and 43-inch 4K TVs have better PPI* (pixels per inch) resolution than larger 55- and 65-inch 4K displays.
——
Notes:
*I also have a 27-inch LG UltraFine 5K ($1,299.95 at the Apple Store) which I hook up to my late-2018 MacBook Air. The LG UltraFine also has an IPS panel and is by far the best external computer monitor I've ever used. The LG UltraFine 5K (5,120-by-2,880 pixels with a very good PPI of 217) has over 14.7 million pixels compared to the roughly 8 million pixels on the LG UM7300 4K TV (3,840-by-2,160 pixels).