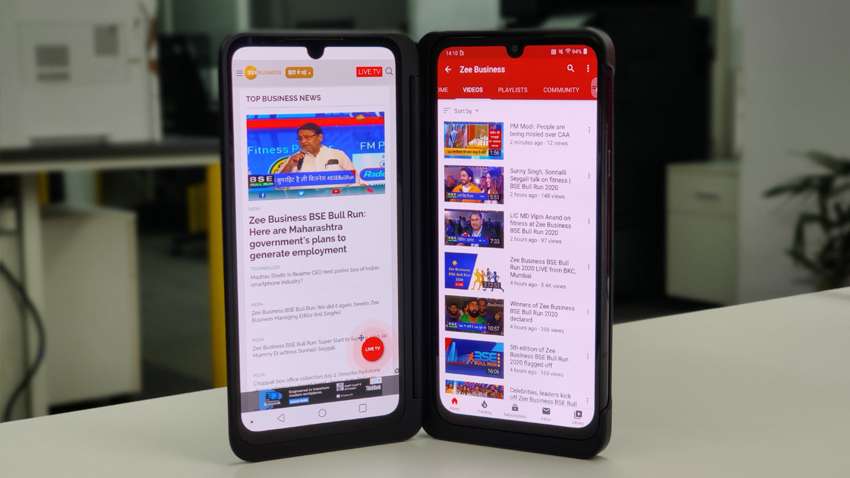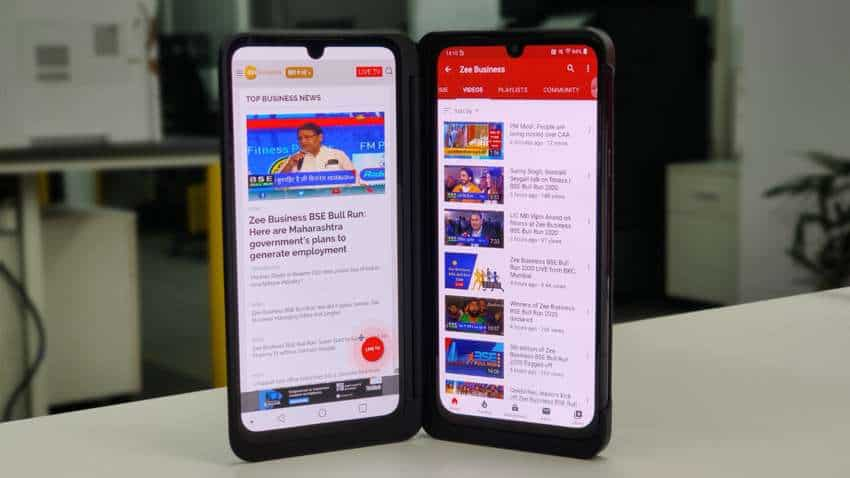 LG G8X Thinq Dual Screen review: There is a popular saying in Hindi – 'Ek Se Bhale Do' – a thought smartphone makers have suddenly started taking seriously and suddenly, almost every company is coming up with a dual screen phone that gives you a foldable experience. Huawei and Samsung were the first to board the train later jumped on by Motorola with its new Razr. The latest to join the list is LG with its dual screen smartphone called LG G8X ThinQ Dual Screen. First unveiled at IFA 2019, the smartphone was launched in the Indian market last month.
Unlike the other foldable smartphones that have two screens connected to each other, this one is like a usual phone that comes with a separate case that has the secondary screen. Priced at Rs 49,999 in India, the LG 8X ThinQ Dual Screen aims to offer a dual screen experience at a relatively lower price. So, let's find out if the phone delivers what it aims to or not.
LG G8X ThinQ Dual Screen review: Design
The LG G8X ThinQ Dual Screen is just like any other smartphone at first sight. The form factor changes only when you attach the secondary display to it. In fact, when you open the box, the secondary display comes in a separate packet. The main smartphone weighs 193 grams, which is a lot. When connected with the case, the weight goes up to 331 grams, making it too heavy. On the contrary, the Galaxy Fold by Samsung weighed around 273 grams.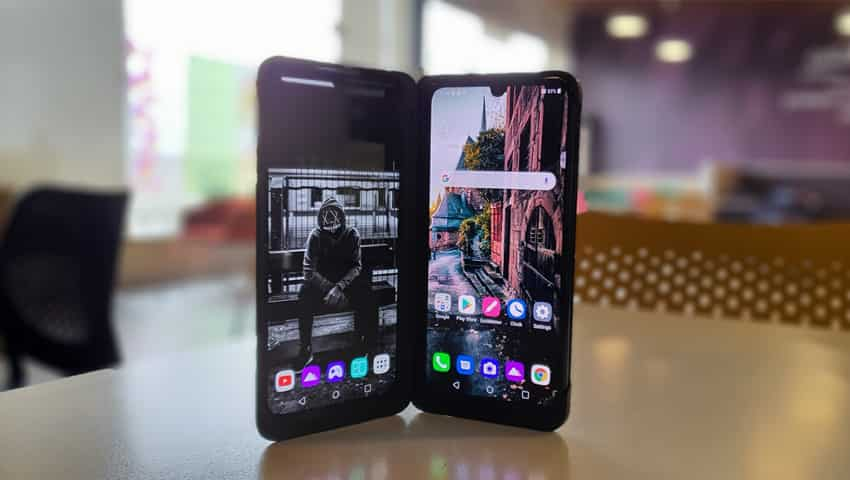 The only positive here is probably that you can leave the secondary display at home or carry it around in a bag, when not in use. But, to connect the two displays every time before using them would be another task.
For connectivity, the case comes with a Type-C dock where you need to attach the main screen. There is a third display on the cover as well which has limited functionality. It can be used to check time, date, notifications, battery life and few other details. But, to use the phone you will have to open the case. Also, this third displays lights itself up for absolutely no reason at all.
The smartphone features a dual camera setup at the back and a dew-drop notch on the front. The other design elements are usual with power button on the right and volume rockers on the left. There is a dedicated Google Assistant button on the phone too along with the 3.5mm jack.
While the mechanism is something new and might impress you, it does make the phone heavy, thick and difficult to carry around.
LG G8X ThinQ Dual Screen review: Display
Both the screens feature same 6.4-inch OLED display with 2340×1080 pixels resolution. The display is quite good. It has a nice colour reproduction and you can also adjust the white balance. LG has also given HDR10 support so you can stream content in the highest quality possible. The main screen comes with minimum bezels but once attached to the cover, you will have to deal with a thick chin.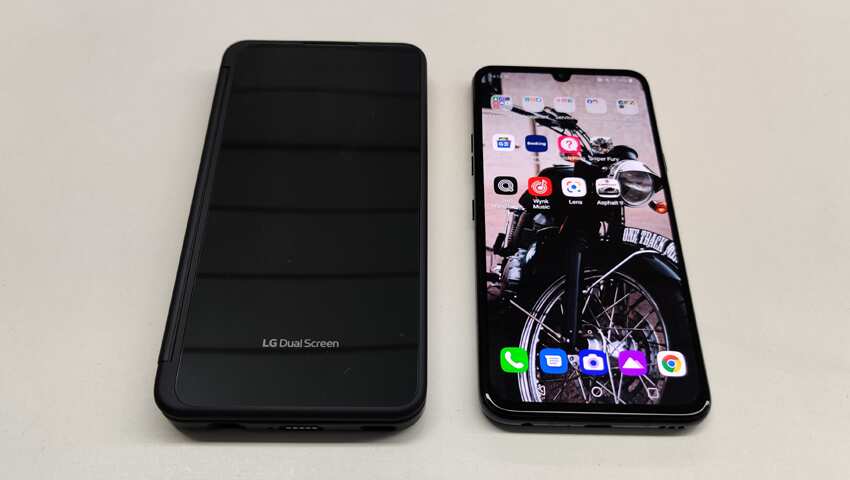 Also, for some reason, both the displays come with a notch even though only the main smartphone houses a front camera.
For those wondering, what exactly can be done with the secondary screen. Well, it can be used as a game pad while gaming, a keypad while typing and for image previews while taking photos. Then, of course, you can do multitasking by opening different apps on both the screens. How effective these displays are, we will discuss later in the review.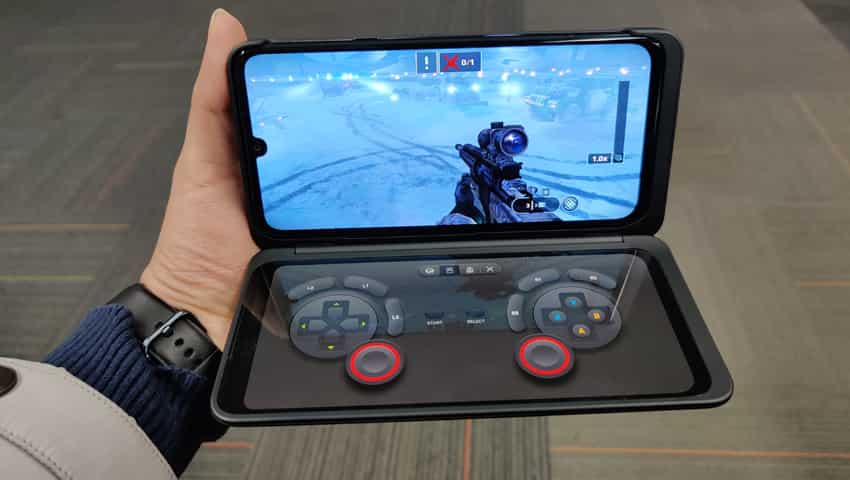 LG has used Corning Gorilla Glass 6 to ensure that the phone stays safe from minor drops.
LG G8X ThinQ Dual Screen review: Performance and Battery
The LG G8X ThinQ Dual Screen is powered by Qualcomm Snapdragon 855 processor which comes with Adreno 640 GPU. The smartphone has been launched in a single variant that comes with 6GB RAM and 128GB of internal storage, where the latter can be expanded using a microSD card.
Now, while Snapdragon 855 remains to be one of the fastest chipsets in the market, it is already six months, if not more, old. Most flagship-level smartphones have moved to Snapdragon 855+ and the world is already preparing itself for the newly announced Snapdragon 865 chip.
Yet, the phone is smooth and apps run seamlessly on both the displays. The device allows you to swap the displays. You can also throw apps from one screen to other with three fingers flick gesture.
Productivity aside, a important part of coming up with dual screen smartphones was to offer better viewing and gaming experience. The Samsung Galaxy Fold and Huawei Mate X allow you to watch videos on a bigger screen – a purpose LG G8X ThinQ Dual Screen fails to solve. Since the screens are not directly connected to each other, your media will be restricted to just one screen.
The execution is better when it comes to gaming. The second screen can be converted into a game pad while running applications. While it is not as effective as a console controller, it does improve the overall experience a bit. But again, the game pad works only with few applications. These include – Asphalt 9, Sniper Fury and Modern Combat 5, among others.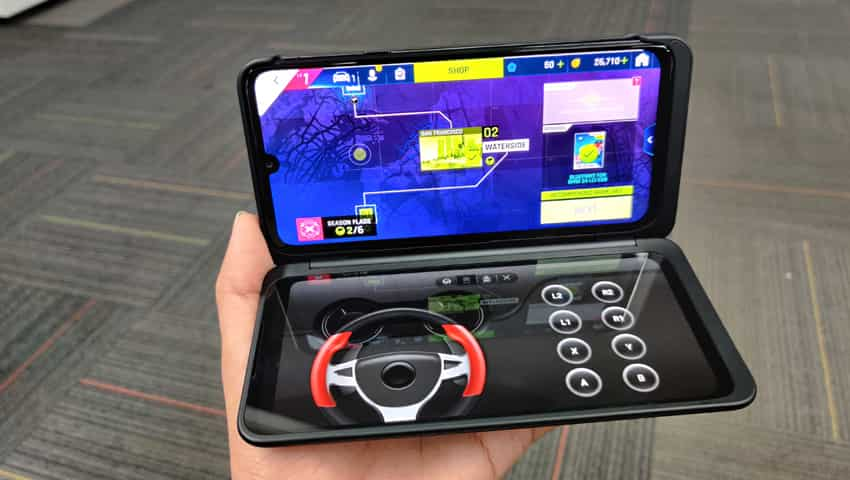 The smartphone comes with an in-display fingerprint sensor and an IP68 rating making it resistant to water and dust.
Coming to the battery, the smartphone packs a 4100 mAh battery that comes with 21W fst charging and 9W wireless charging. What's the let down? You get a 10W wired charger inside the box. If you are using both the displays, battery drains fast. While using the game pad, I noticed a loss of about 10 per cent in five to seven minutes.
LG G8X ThinQ Dual Screen review: Camera
The smartphone features a dual camera setup at the back with a 12-megapixel f/1.8 main shooter and a 13-megapixel f/2.4 ultra-wide angle lens. In good light conditions, the camera manages to capture decent images but there are superior camera smartphones available at this price point in India.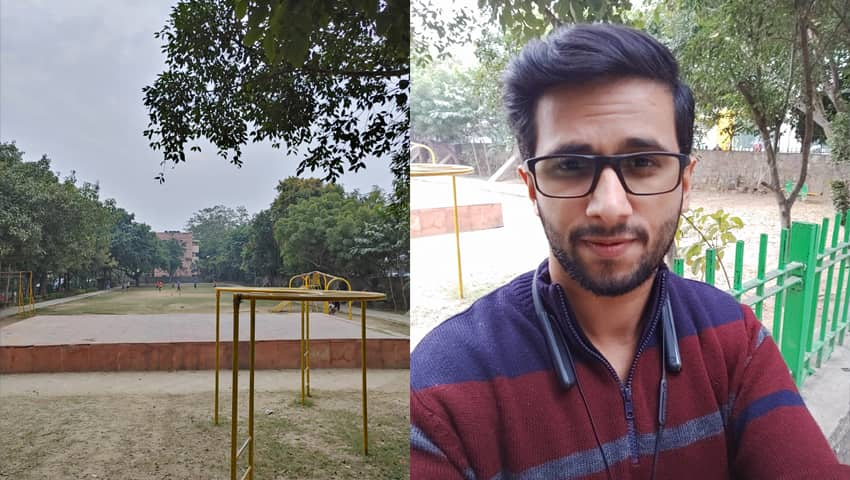 Also, image processing on the LG G8X ThinQ dual screen is slow. The camera apps does come with several options like Night View, Panorama, Story Shot, Manual Video and Flash Jump-Out. There is also an option to start a YouTube Live from the app itself.
On the front, you get a -megapixel f/1.9 camera lens which captures good images but struggles a bit in lowlight conditions.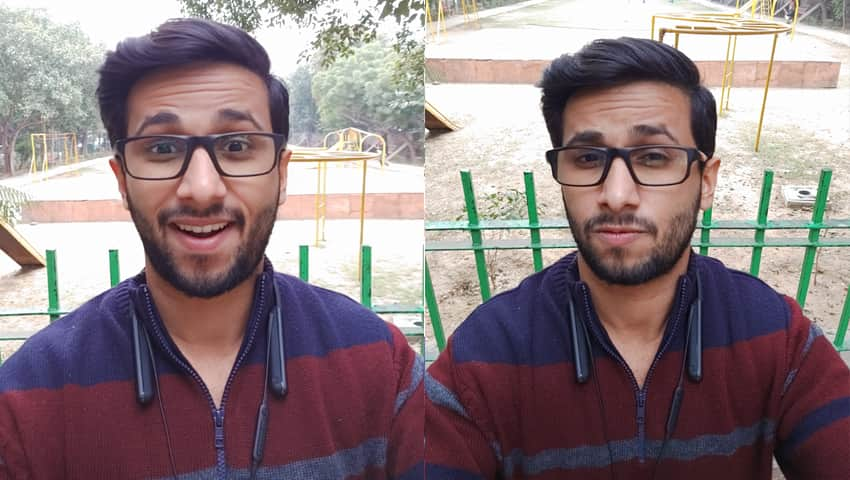 As I mentioned before, the smartphone allows you to click images and preview them at the same using the secondary display, This is a great feature for those who are rarely satisfied with their pictures or selfies.
LG G8X ThinQ Dual Screen review: Final Verdict
There are a lot of things you would want LG to improve on this smartphone but foldable and dual screen devices are a new concept altogether that most companies are still trying to master. So, I don't want to be too harsh on LG. With the G8 ThinQ Dual Screen, it has tried to innovate and come up with a device that increases productivity, improves gaming experience and offers a unique experience.
At Rs 49,999 it is a practical dual screen smartphone for which you don't need to take loans or sell any body parts. However, we expect more such innovations to arrive in India over the next 12 months so patience can be reward as well.
["source=zeebiz"]