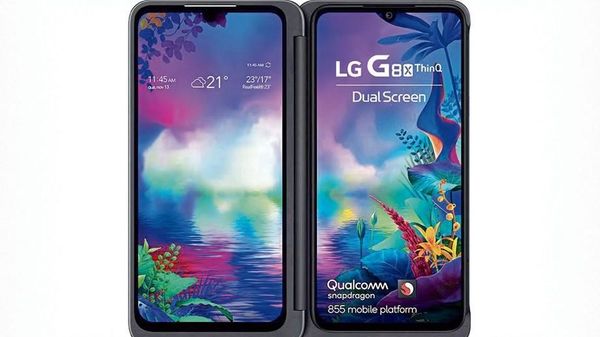 NEW DELHI : Not all foldable phones have foldable screens. Some of them have two screens with a hinge in between. Though it feels like a work in progress these phones can still be great for multi-tasking.
LG's G8X ThinQ belongs to this breed of smartphones that offers two vibrant-looking 6.4-inch OLED screens that can fold/open like a book. However, it's miles from the ease and comfort we are used to. With the two screens, the G8X ThinQ is no different. It's thick and heavy, which is perhaps why LG made the two-screen mechanism optional. The second screen is designed like a detachable case.
When the screen is on, it can run two apps side by side. This is actually a lot more convenient than using a split screen mode on a single screen. There is also an option to use the two displays as one large screen . But the space between them feels too wide to ignore. The other limitation is that you can't run just any app in this single wide screen format. If you play anything that doesn't support it, the screen will automatically switch back to two separate screens, which can be very frustrating at times. The second screen can come in handy for gaming, offering gamepad-like controller buttons on one of the screens. However, this only works with select games .
Overall, while the optional second screen does make it unique, the phone doesn't impress . We have seen smartphones with better design, displays, camera, etc., at similar pricing. At best, G8X is an affordable alternative for those who really want to buy a foldable smartphone.
*************************
PROS
■ Two screens make the phone unique
■ Battery backup is quite dependable
■ Cheaper than other foldable phones
CONS
■ Feels bulky with the second screen
■ Gap between screens is unmissable
■ LG's interface needs improvement
["source=livemint"]